This new edition of the famous Maison & Objet show is a great opportunity for the Ardamez team, as this year more than ever we've pushed back our boundaries and redrawn the boundaries of the bistro era. And to keep you waiting, here's a sneak preview of what's in store at stand L67 – Hall 6 at Maison&Objet 2023.
New materials for your bistro tables
New Ardamez products mean new materials! But not just any materials. For once, we've turned to natural, top-of-the-range, elegant materials – the kind that have left their mark on decades of interior design, and that will be making the trays of tomorrow. To guarantee you an even more surprising journey, we've also worked on innovative shapes and new reliefs.
Macaroon : nature on fire 
During the 2022 edition, you were already able to admire our enamelled lava stone trays. You were captivated by its crackled effect and the depth of its colours. Inspired by your enthusiasm, and in collaboration with Pyrolave, we have revisited this powerful natural material in an even more original form that will leave no one speechless. The enamelled lava rests elegantly on a top quality oak tray.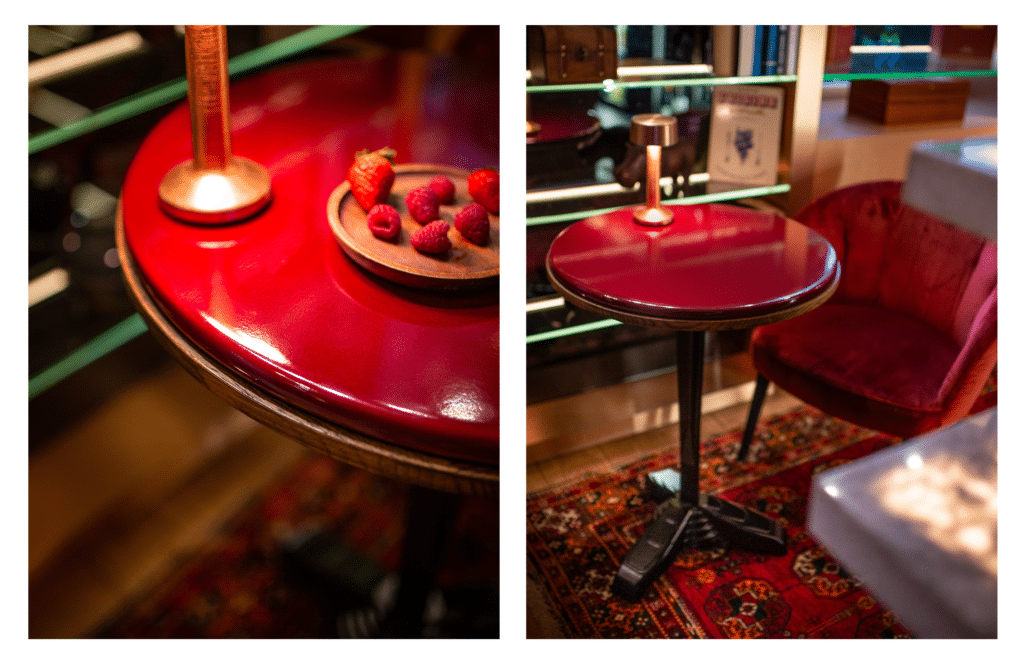 Travertine: inspired by ancient Rome
Ceramic is the flagship material of our Haussmann range. Solid, watertight and resistant to corrosion, it is perfectly suited to the culinary trades and successive dressings. With so many qualities to choose from, how could we not once again make it the muse for a completely new product? So, after being adorned with marbled scrolls, this beautiful stone is now dressed in blurred designs in warm shades, in homage to travertine. In our desire to offer you pieces with authentic charm, we've also opted for a slightly grainy feel, as close as possible to the minerals that inspired it. Finally, as usual, we've encircled it with a noble metal, presented here in a smooth, brushed finish.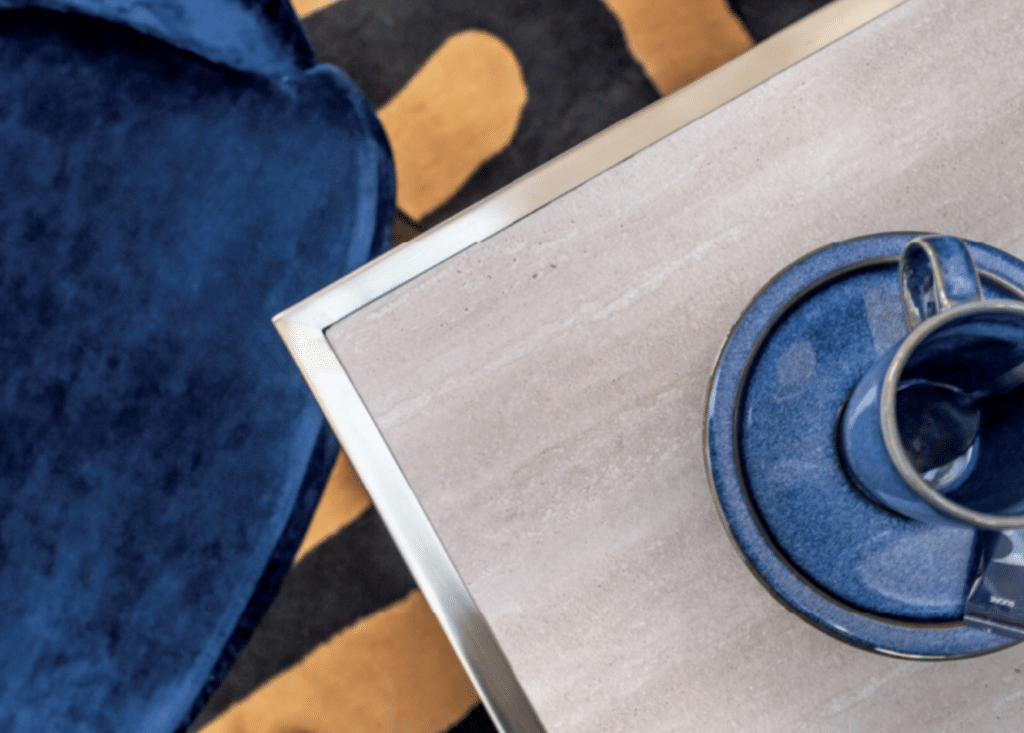 Glasgow: carved beech with a gallic air
Traditional curves, crafted from beech wood and enhanced by a finely carved hornbeak edge… This new table strikes the perfect balance between delicate lines and a rustic look; French elegance and Gallic charisma. It will be ideal for bistros and restaurants looking for a touch of originality, and for interior designers wanting to embrace the charm of tradition while breaking free from its rules.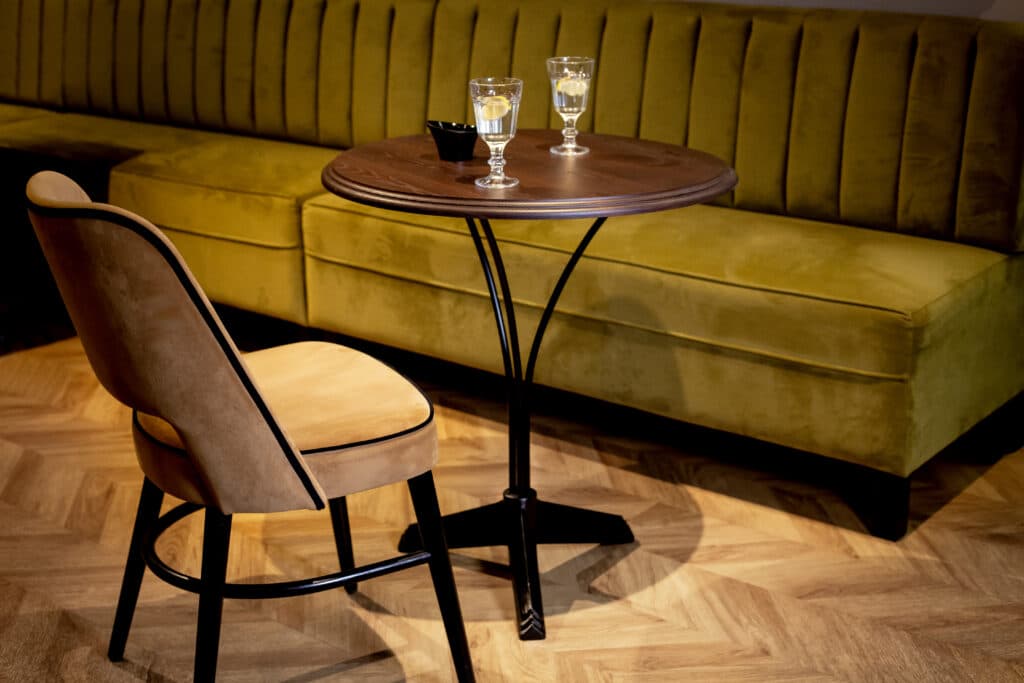 Atypical table bases
Our Bistrot and Bastille legs may have long since taken up residence in your hearts (and restaurants), but we know how exciting and invigorating it is to work with new silhouettes. So we've expanded our range of bases with 4 new designs. The Roma rises gracefully, like water gushing from a fountain. The thicker Oxford table base is inspired by Victorian England. With its grooved silhouette and solid base, it strikes the perfect balance between strength and elegance.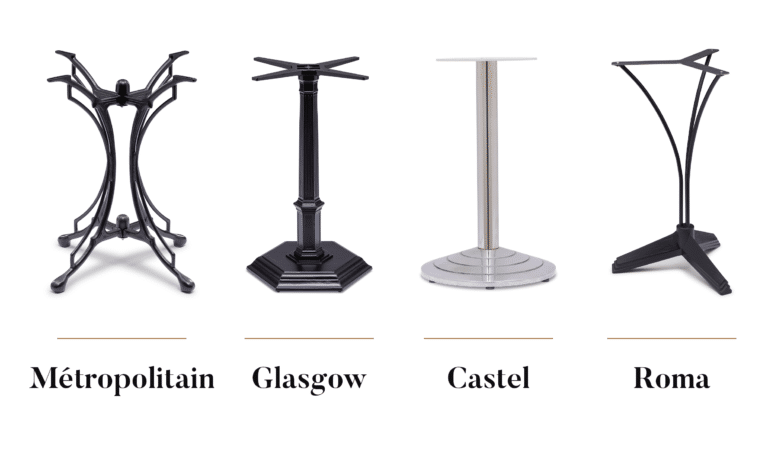 The Castel foot is surprising in both its material and its shape. Its round base and shiny stainless steel give it a pop, retro feel. Finally, the Métropolitain leg has a curved silhouette which, combined with the play of curves and reliefs reminiscent of arabesques, gives it a striking Art Nouveau look.
A whole universe designed around the table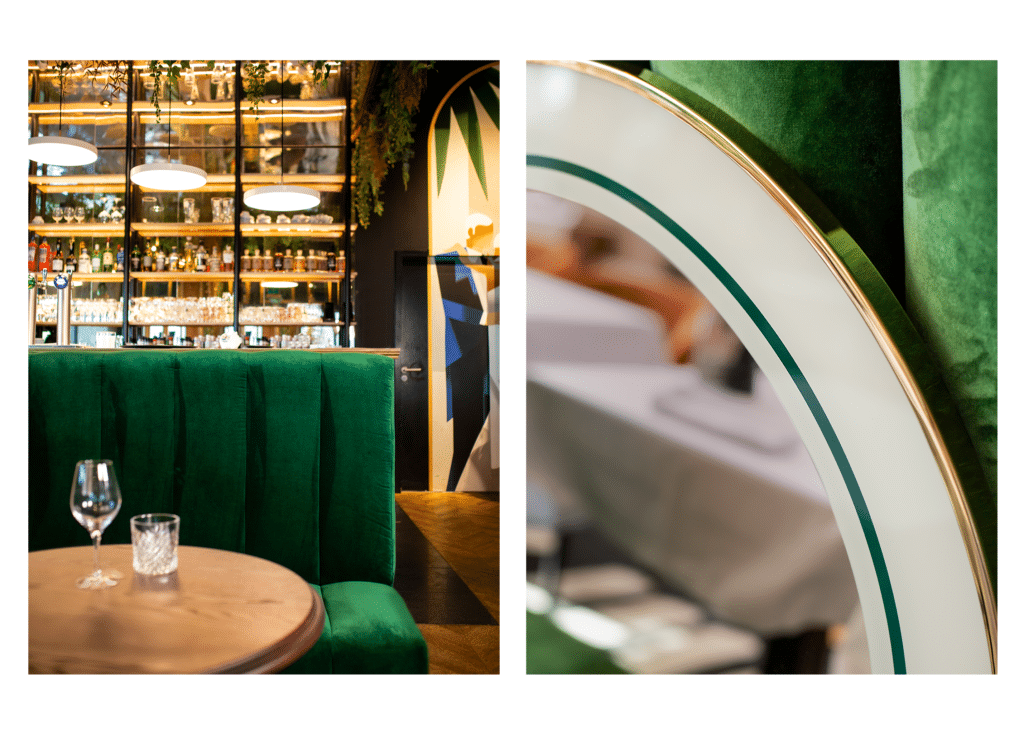 Driven by a genuine love of design and beautiful objects, this year we've decided to extend our expertise. Maison & Objet 2023 will be the opportunity to unveil our brand new collection of benches and mirrors!
This collection has been designed to blend perfectly with our tables, guaranteeing you a complete and refined universe, right down to the smallest detail. Fully customisable, each of our mirrors will pass through the hands of our craftsmen to be adorned in brass, copper or stainless steel, before coming to shine in your decor. And of course, fine sheet metal work is our speciality… Our beautiful (and unique) Montmartre benches can also be sublimely crimped on request!
New catalogue, new stand for Maison&Objet 2023
The revival that is now sweeping through our workshop will of course be reflected in the release of a new catalogue! Still hot off the press, we can't wait to see it sitting on your shelves, to be leafed through with the fervour of creative genius.
Finally, this new impetus will be underlined by a stand that has been completely redesigned to transport you into a world as traditional as it is unique. The space has been imagined as a succession of atmospheres and decorations in which you can immerse yourself and draw inspiration…
We won't say any more, so as to preserve the surprise! So see you very soon at the show, and see you soon on our networks for some previews!
Photos : © Marie Jonchère