Screen printing, to personalise your restaurant tables with elegance and love
February. The month of big declarations, bouquets of flowers, cards adorned with hearts and pretty puns, and of course dinners for two in restaurants. Inspired by the spirit of Valentine's Day, we wanted to introduce you to one of our flagship personalisation services for your bistro tables: screen printing. What's that got to do with it, you ask? Quite simply, it's our way of adding a touch of love to our beautiful creations. Love for your sign, if you opt for a logo or other nod to your visual identity. Love for your customers, if you opt for purely ornamental personalisation or a textual element that will make them smile.
How does screen printing on enamelled steel tables work?
First of all, it's worth noting that our personalised screen-printing service is available exclusively on enamelled steel trays from our Tradition Line.
Enamelled steel is a steel material coated with enamel, a vitreous substance made from glass frit, which covers the surface of the steel to protect it from corrosion and UV rays. The manufacture of enamelled steel begins by stripping and cleaning the surface of the steel to ensure optimum adhesion of the enamel. Next, the enamel is deposited on the steel surface using a spraying process. The enamel is then fired at a high temperature (850°) to harden it and make it adhere to the surface of the steel. Once this beautiful material has been created, it's time to give it its colour. A carefully studied recipe of natural pigments (silicas, liquefied enamels, metals) is then added, to be perpetuated with a further firing.
If you opt for screen printing, this is where it comes in! This durable and technical marking method owes its colour to a second formula. Similar to the one that gives the board its final colour, it is made up of the same natural elements, but in different proportions. To apply it, we spread our enamels on a micro-perforated screen called a "silkscreen dial", then apply pressure so that the enamels pass through the holes and transfer the motif (or text) onto the enamelled surface. Your tabletop then undergoes its final fire test to fix its new attribute… And all that's left to do is to have it set with our famous hoops before it becomes the beautiful Ardamez table of your dreams.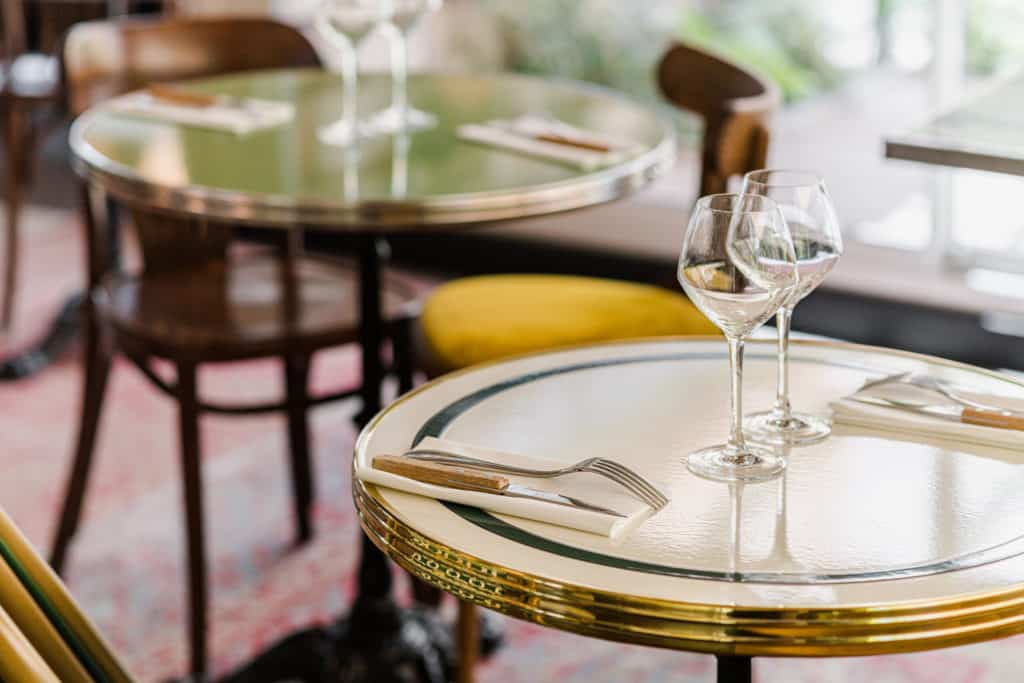 What are the limits in terms of design?
To put it simply, there simply aren't any! But of course, there are a few things to bear in mind before you create your design, to ensure that you stay within your budget.
If you opt for a monochrome design in a RAL K5 shade, the process will be quicker and more affordable than a multicolour design. Screen-printing several colours not only requires several enamel formulas and "clichés" (one for each colour), but also a new firing between each shade to prevent all the pigments from mixing.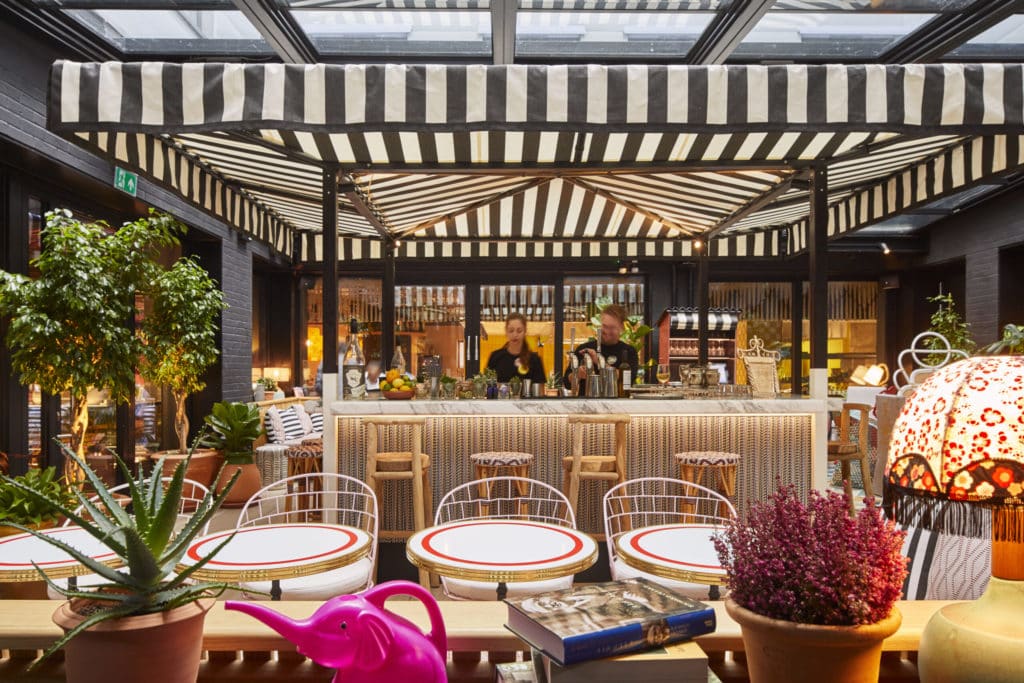 The colour chart below contains the most stable RAL K5 colours. These are the colours that are easiest to reproduce using enamels, and those that we are used to using.
But at Ardamez, we love a challenge! If you have another colour in mind, we can carry out a colour search especially for your project using a colour chart other than the RAL or a sample of materials. Bear in mind, however, that some colours can only be obtained by incorporating precious metals. For example, a gold screen print will require real gold to be added to our recipe.
If you have any questions, please do not hesitate to contact our sales representatives.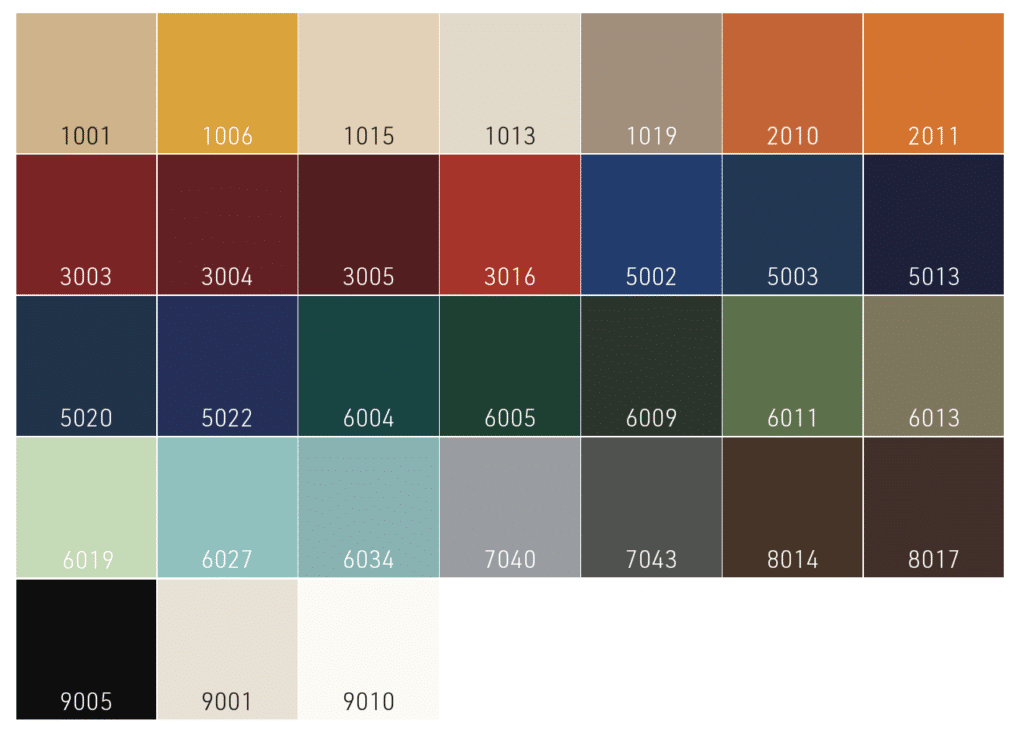 Tailor-made screen printing for your restaurant tables
To give your tables that extra touch of originality, you can opt for our 100% made-to-measure service by sending us your own file or asking our graphic designer for help.
Le Fanfaron: lettering on its outdoor tables
Le Fanfaron has decorated its tables with a delicate, elegant lettering in an infinitely soft blue, echoing its graphic charter.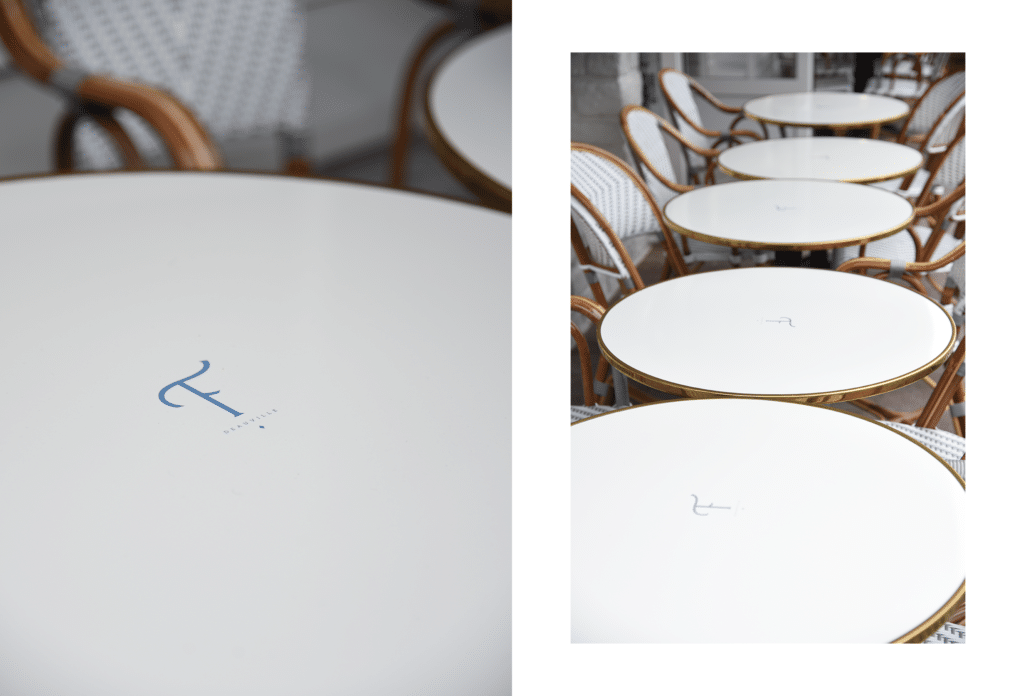 Le Café du Trocadéro: a name rooted in steel
In the same way, the iconic Café du Trocadéro has built on its strong brand image, largely imbued with Parisian culture, by dressing the contours of its trays with its patronymic. The attractive typography chosen, as modern as it is timeless, is an eye-catcher and a real eye-catcher.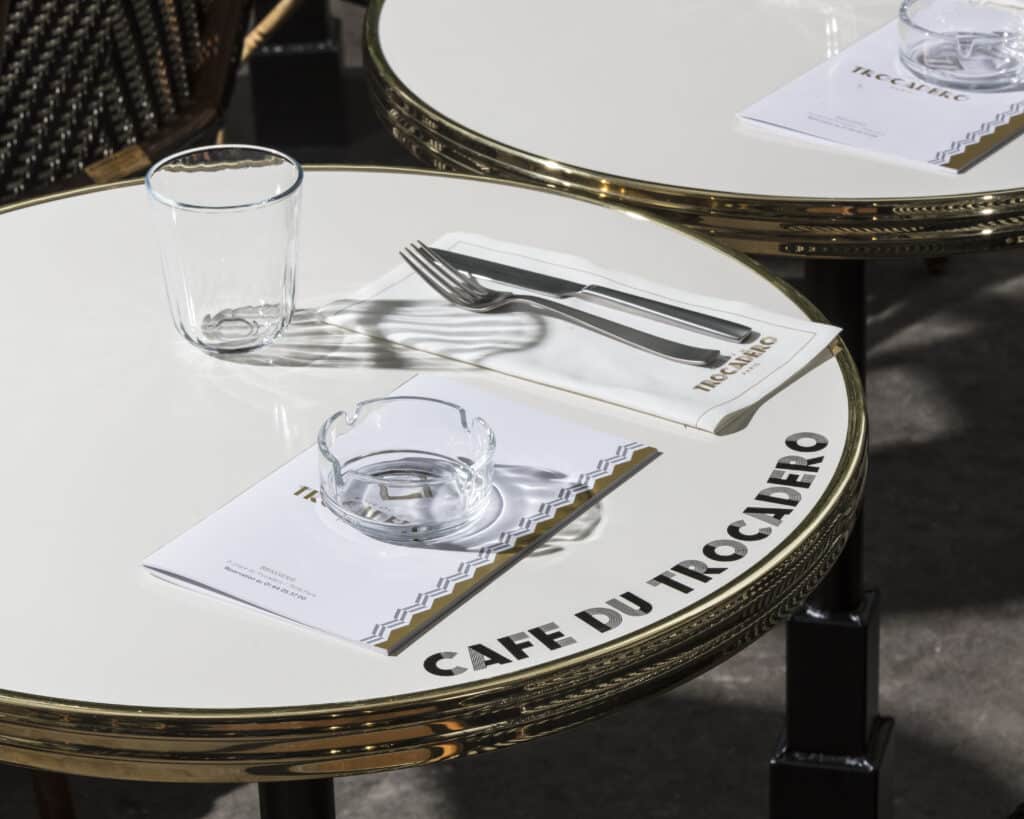 Felix Roasting Co.: ornamental screen printing for elegant, retro tables
On the other side of the Atlantic, in New York and Aspen, the Felix Roasting Co. cafés have chosen to distinguish themselves with an ornamental motif in the spirit of art nouveau, in perfect harmony with the decor of the premises. Monochrome and delicate, this design features a first motif in the centre of the tray and a second, laid over its curves like lace.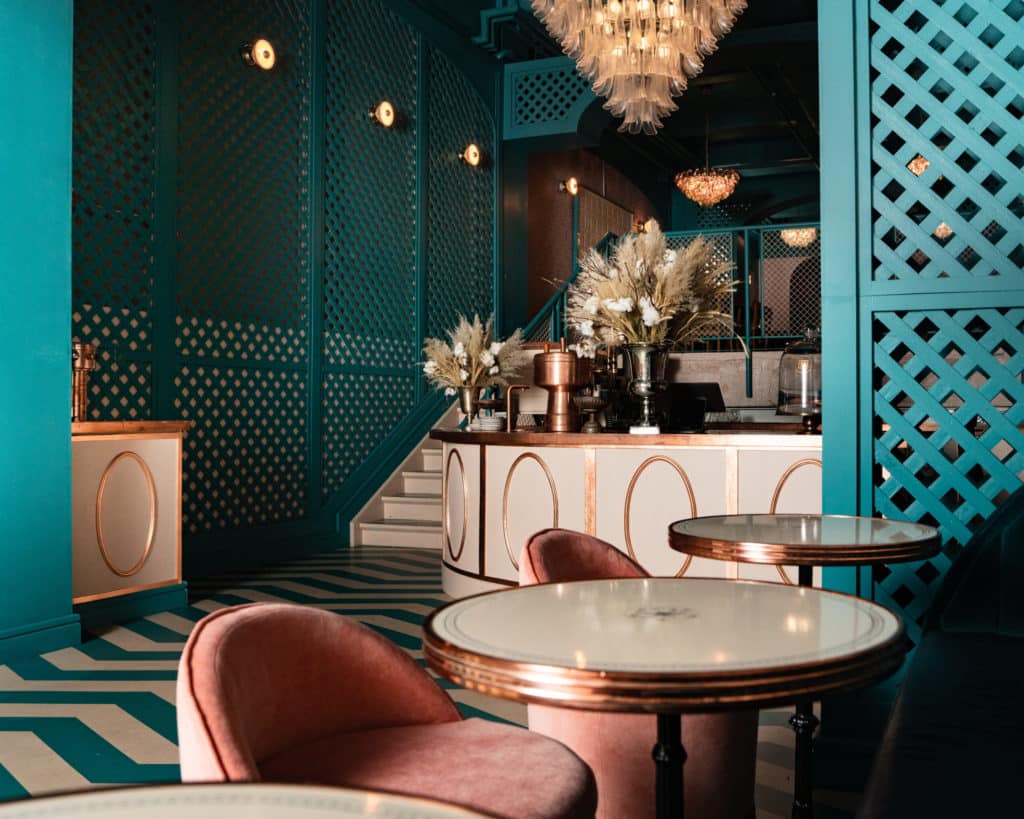 The Riddler: the word that puts a smile on your face
And of course, one of our favourites: the screen print for The Riddler Champagne Bar. Bold serif typography for an old-school feel and a sweet, simple word. What we love about this personalisation is its friendly spirit, conveyed in an elegant way; the surprise it creates and the almost sudden desire of the customers to script it and publish it on the networks.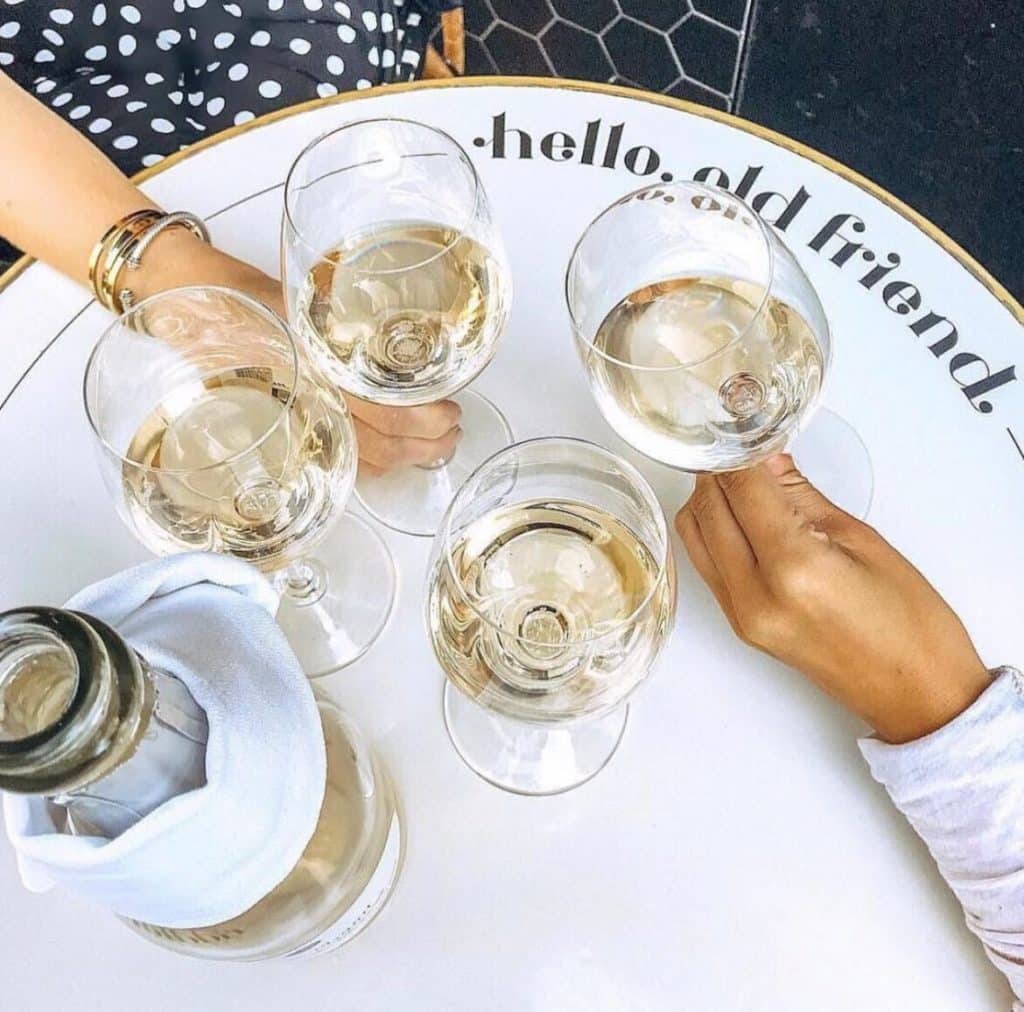 Discover our essential designs for your screen-printed tables
Do you have a small budget or do you need a turnkey solution to enhance your interior design with screen-printed tables? We've got you covered, with no fewer than 8 designs dreamt up by our teams. Geometric, floral, textual or art nouveau inspired, there's sure to be one to suit your world.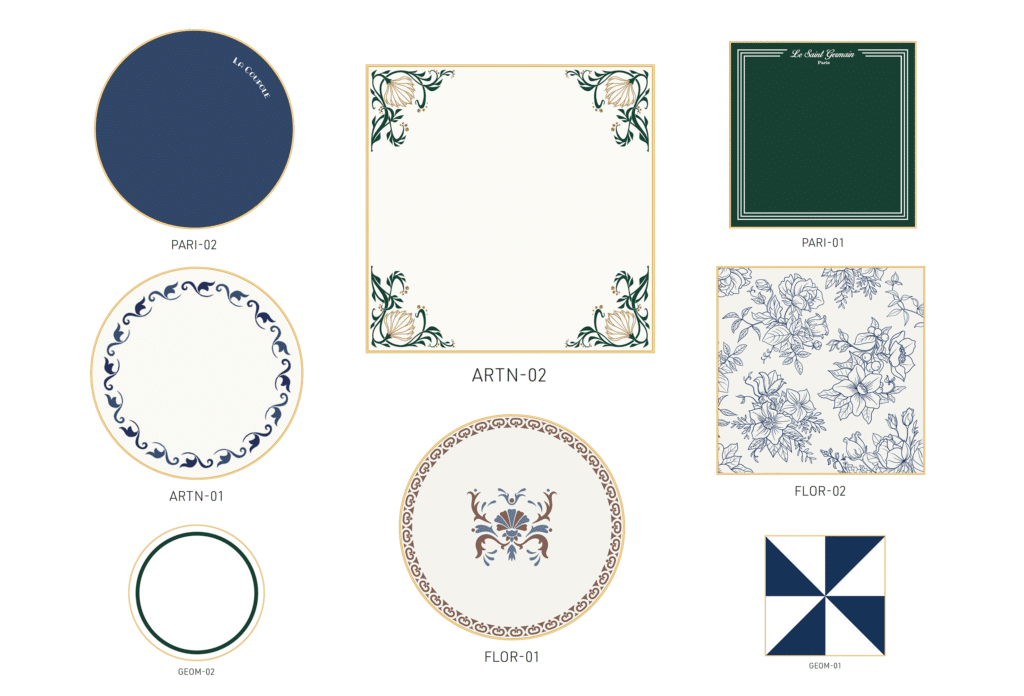 Discover the art of screen printing on our customisable mirrors
Our sublime brass, stainless steel and copper hoops can now be applied to beautiful mirrors. To help you personalise the interior design of your restaurant, hotel or café down to the smallest detail, we're extending our screen-printing service to include these beautiful objects. To find out more about this new range of products, feel free to browse our catalogue or contact our sales representatives.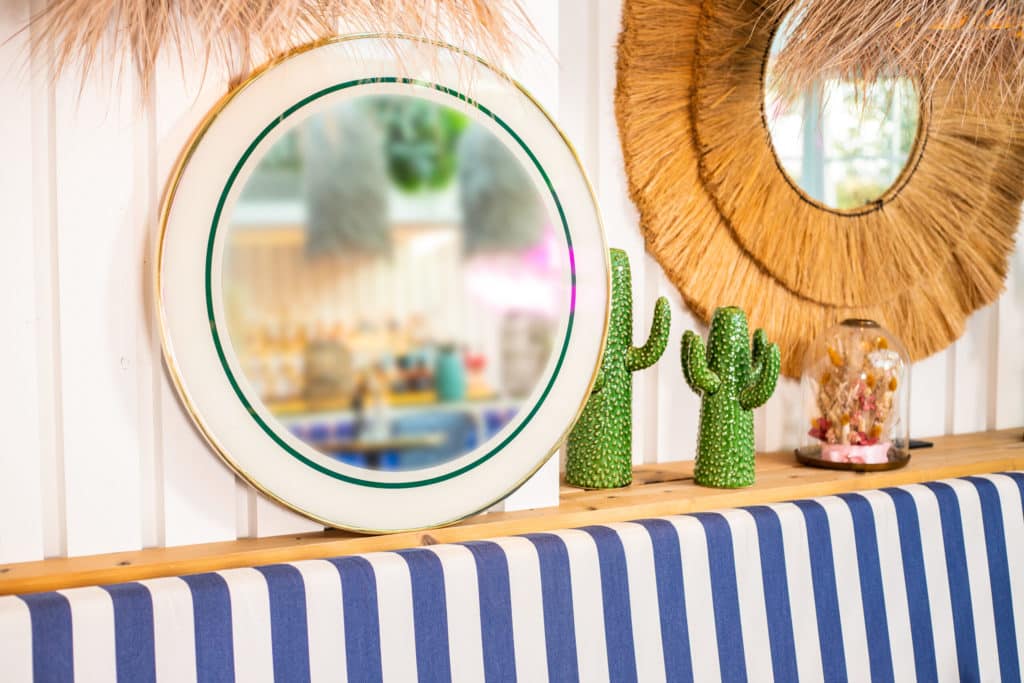 Plomeïs: signs, street signs and screen-printed accessories
After reading this, you may be tempted to personalise your interior and exterior design down to the smallest detail. So why not let yourself be seduced by the beautiful objects from our Plomeïs colleagues?
Specialists in the manufacture of street signs and other enamelled steel signage, they can, for example, make you a sign on a wrought iron bracket or a support for your menu, adapted to your graphic charter.